Alex Lewington scored twice as Saracens overcame two late yellow cards to beat Newcastle Falcons 21-32 at Kingston Park.
Newcastle threatened to come back after falling 17-9 behind on the stroke of half-time, twice bringing the deficit within three. But against a team that has Owen Farrell steering the ship, it was always a difficult task for Dean Richards' side.
Mark McCall spoke in pre-season of his ambitions for Saracens to develop their attacking game this campaign. If their opening try was anything to go by, his team will be a different proposition. Alex Lozowski stepped into the line as a second receiver, before drawing his defender and popping the ball to Jamie George. A majestic one-two with David Strettle later, and George was powering his way over the try line.
Their second was even more impressive. Returning a kick from inside their own half, Lozowski broke the line once again before offloading to Owen Farrell. The England international fly-half had the simple job of setting up new recruit Alex Lewington, who sprinted home for his first try in Saracens colours.
Lozowski impressed in the 13 shirt which he is attempting to make his own in the midst of Eddie Jones' indecision over his centres. The former Wasp played a key role in the opening two tries, but would've been disappointed with his two first-half missed tackles – the most of any Saracen.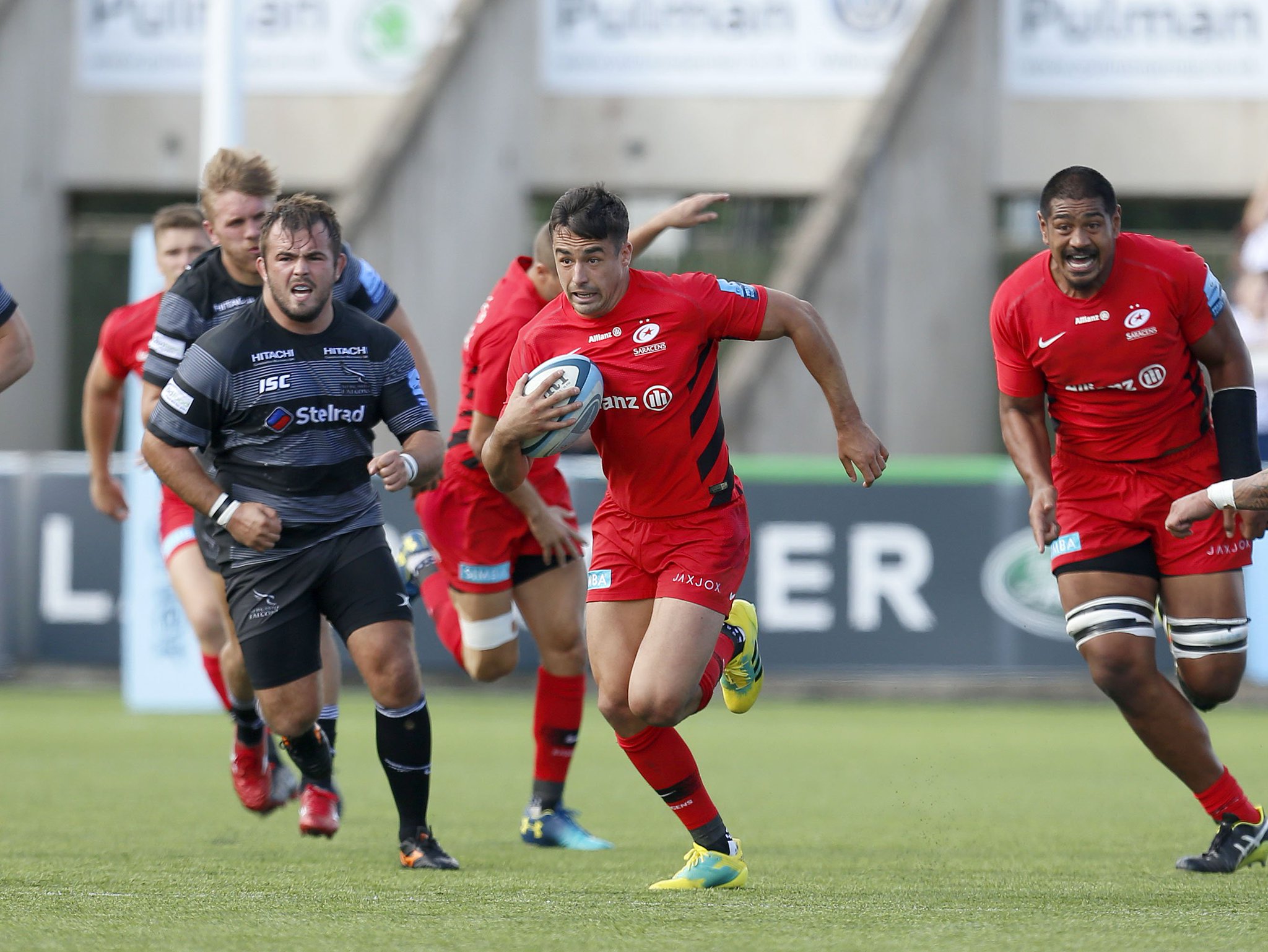 Saracens were as clinical as ever, but Newcastle were perfecting the art of designing their own downfall. Making 13 handling errors is unforgivable at this level, especially so against the defending champions.
With a makeshift backline which included young scrum-half Tom Whiteley – brought onto the bench pre-match to replace the ill Ben Spencer – on the wing, Saracens were struggling to gain a similar kind of stronghold on the game as they did in the first half.
When Mark Wilson rampaged through the back of a ruck to walk over the line with 25 minutes to go, Newcastle were only three points behind, with a buoyant home crowd spurring them on.
But there are few better in World Rugby at controlling possession and territory than Owen Farrell, and as soon as Newcastle closed the gap, they found themselves in their own corner from Farrell's touch finder.
A misplaced pass and short defensive set later, and Newcastle were staring down the barrel of an eight-point deficit again as Alex Lewington scored his second.
Despite Lewington's score, the game was far from done, and Saracens were forced to play 10 minutes with a further depleted backline after Nick Tompkins was sin-binned for leading with a bent arm, elbowing Toby Flood in the neck.
Saracens' ill-discipline was preventing them from securing the opening day victory which their all-round performance warranted, as they conceded 12 penalties, a stark contrast to the disciplinary standards that Mark McCall insists upon.
When Alex Goode was sent to share the sin bin with Tompkins after slowing the ball down when Simon Hammersley rampaged into the 22, Saracens had three minutes of playing with 13, and only five of them were backs.
But it was Newcastle's forward pack who scored their second try – Mark Wilson was the benefactor of a powerful rolling maul.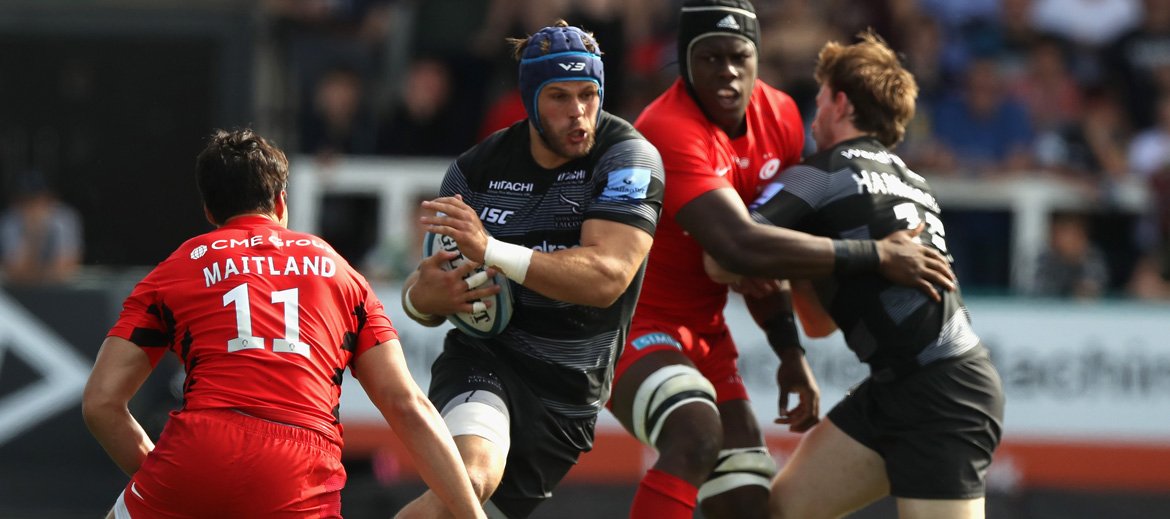 In spite of their numerical disadvantage, Saracens were still able to create an overlap in the backs after Jamie George's powerful line break, and the returning Tompkins scored to put his side's bonus point victory beyond much doubt.
Winning when performing poorly is the mark of a good team, and this Saracens side is threatening to become a great one. Saracens' set piece, defence and discipline – the aspects of their game which became synonymous with their rise to the top – were off form, but there is no doubt that under McCall these elements will soon prosper once more.
In scoring four tries, the North Londoners' new-found attacking prowess was portrayed to the Premiership. Alex Lewington looked at home on Saracens' left wing after replacing Sean Maitland early on, and the former London Irish man is one to watch as Eddie Jones names his England squad for the Autumn Internationals on 18th October.
Newcastle's fighting spirit against the Champions was encouraging for Dean Richards, and academy product Adam Radwan looked exciting and slippery in his first Premiership start.
What will worry Richards, fresh from guiding his side to their highest finish since 1998, is that when Saracens were reduced to 14 and then 13, Newcastle couldn't capitalize, perhaps by virtue of their weaker substitutes bench.
Richards' squad players will have to step up if Newcastle are able to cope with the demands of Champions Cup rugby, as well as competing on the Premiership front.
But this victory was a frightening sign for the Premiership that Saracens are back for further success, and look to be an even more balanced, even more threatening and even more effective side this year.