There are many masterful tacticians in the footballing stratosphere, but few who can make flawless decisions as effortlessly as Pep Guardiola can.
Guardiola opted to replace both full-backs from Sunday's victory over Southampton, and it worked exactly how he would have hoped. Mo Salah was wholly nullified by Aymeric Laporte – traditionally a centre-back, playing on the left side of defence. Similarly, Kyle Walker was dropped, replaced by the more defensively-minded Danilo.
Danilo has come under criticism in his City career, but dealt with Sadio Mane effectively, forcing the Senegal international to move into a more central role as his side opted to smash the ball long in the closing stages.
Fernandinho's importance to Manchester City has never been so keenly felt after last month's successive losses to Crystal Palace and Leicester City, and his control was on display here. He was ubiquitous when Liverpool attacked, preventing their deadly trio from combining.
John Stones played in defensive-midfield when Fernandinho was injured, but it is clear that his strength lies at the back. When Sadio Mane broke through, it was Stones' gallant clearance which saved City's clean-sheet.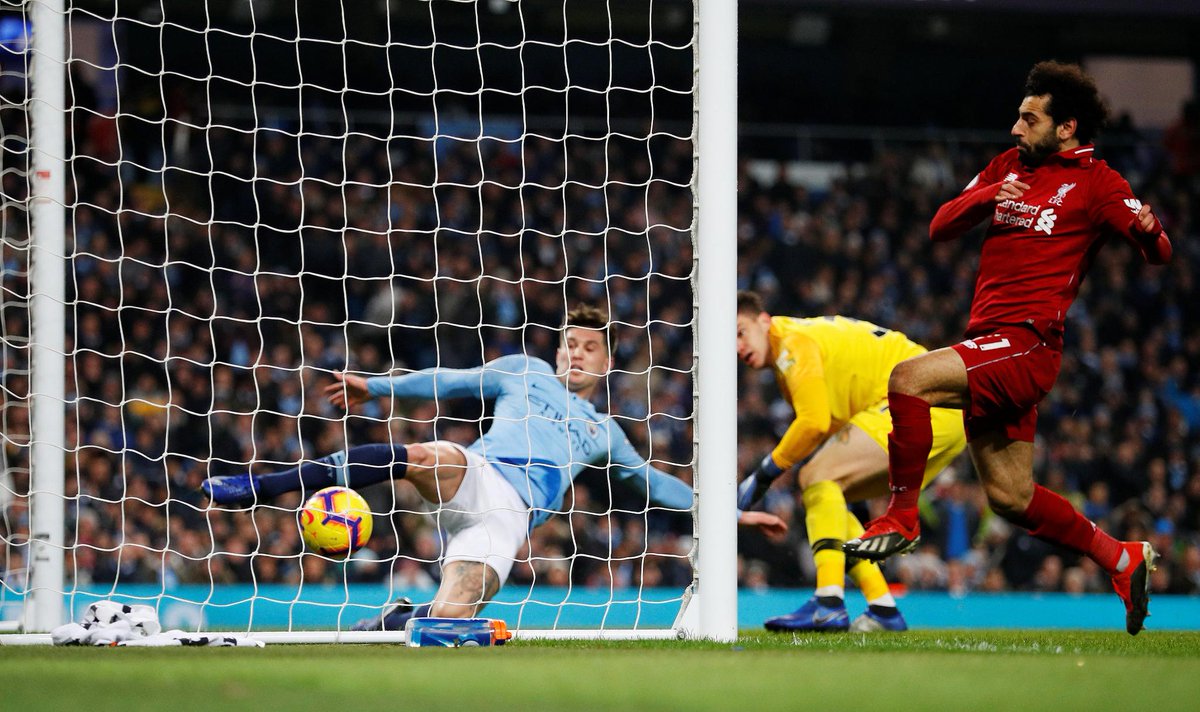 At 0-0, Mane's effort would have been a pivotal goal in the title race. Replays later showed that the ball was 11 millimetres away from crossing the line when Stones intervened. The difference between winning and losing titles, perhaps.
Liverpool's own midfield has been a revelation this season, but in the big games it looks as if a midfield of Henderson, Milner and Wijnaldum doesn't hold enough technical quality to trouble sides of City's prowess.
In Joe Gomez's absence, Dejan Lovren has deputised admirably alongside Virgil van Dijk at centre-back, but he was exposed for the first goal as Sergio Aguero capitalised on a lapse in concentration to smash the ball past Alisson at the near post.
Nevertheless, Aguero's goal on 40 minutes was sublimely executed: sliding in front of Lovren, controlling Bernardo Silva's cross impeccably before battering the ball in through the only gap in Alisson's set-up from the most unlikely of angles.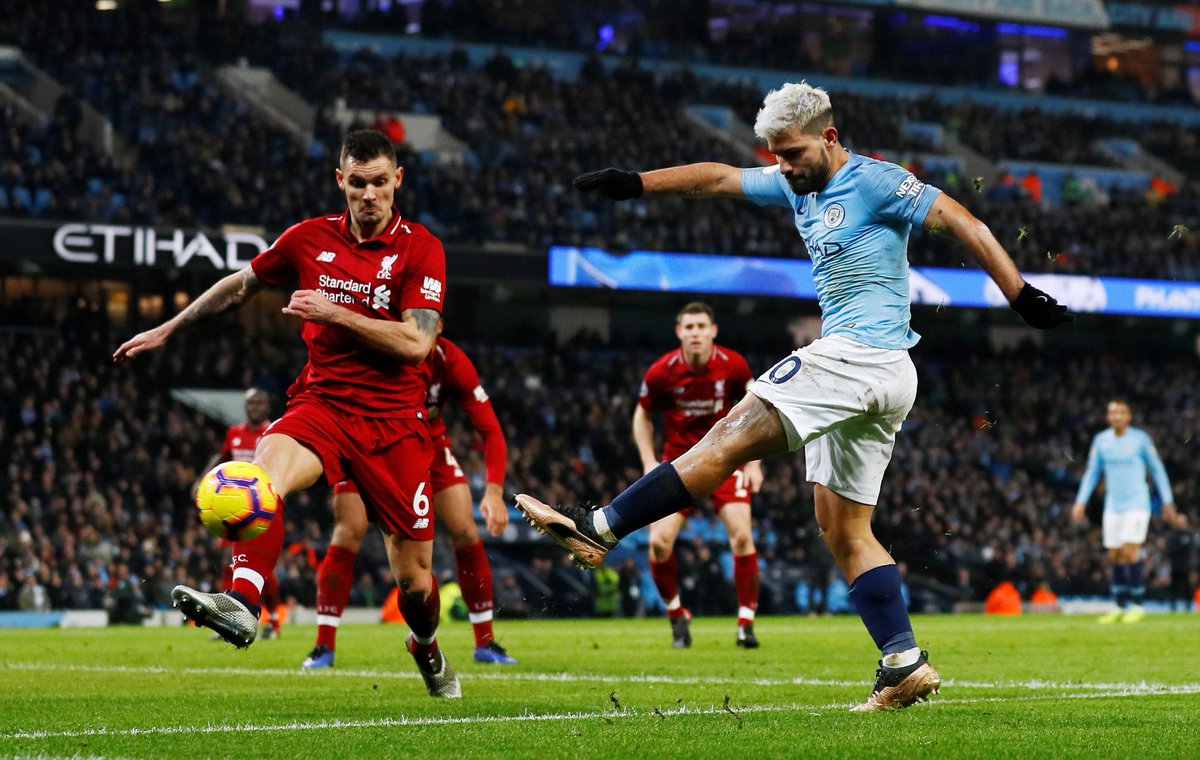 City's switch in mentality after half-time was marked. They were no longer looking to run in behind Liverpool's defence, instead opting to preserve their lead by cancelling out their opponents' attacking threat.
It was a fallible tactic. Once Klopp's side had realised City's change in approach, full-backs Andy Robertson and Trent Alexander-Arnold could sprint forward with little defensive responsibility.
Despite spending £130 million on new full-backs just over a year ago, it appears that this position is City's main weakness, and how Guardiola wishes he had players of Alexander-Arnold and Robertson's calibre on his flanks.
Danilo and Laporte are useful stop-gaps, but a side looking to challenge for both domestic and European honours should have more depth in such a crucial position.
Alexander-Arnold came through Liverpool's youth system playing in central midfield, and if he can reproduce the sumptuous cross-field ball for his side's equalizer then he will surely have a future in the nucleus of his team.
His chipped pass to Andy Robertson was expertly weighted, and the left-back, who had sprinted forward into the six-yard box, flicked the ball across perfectly for Roberto Firmino to equalise.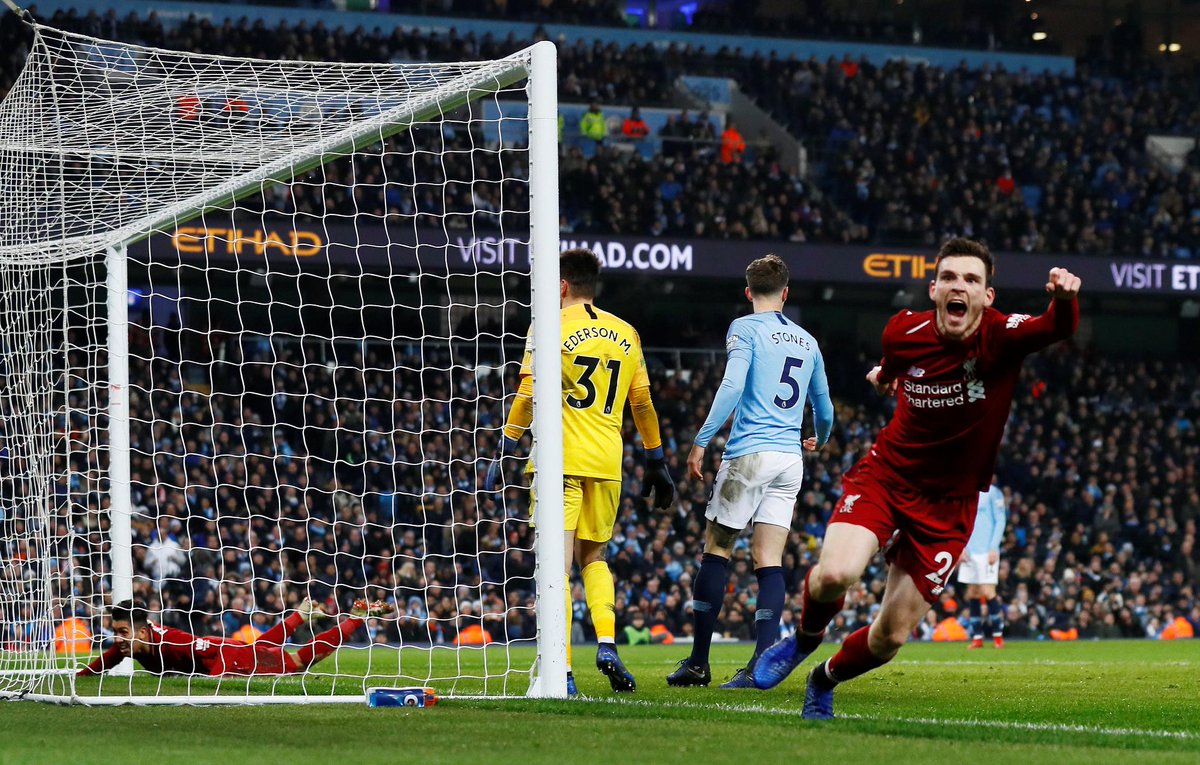 Liverpool's goal did not act as the catalyst for a response from Manchester City as one might have expected, but it was still only minutes after scoring that Klopp's side found themselves behind again.
A chance long-ball from Danilo found Raheem Sterling in space, and just seconds later Leroy Sane was gliding the ball off the post and into Alisson's net.
This result has monumental consequences in the title race, and even Guardiola lost his cool in the latter stages.
But there was little for Guardiola to worry about – for a side with Liverpool's attacking quality to look so futile going forward in search of an equaliser towards the end speaks volumes of City's brilliance in defence.
With Liverpool's lead at the top now only four points, it seems certain that for the first time in years there will be a title race.